For your information I am now blogging from home. Yay…. Setelah sekian lama we all semua dok memujuk abah aku suh letak streamyx kat rumah, baru sekarang ni abah aku masukkan. So, senang lah sikit nak surfing internet kat rumah.

Sepatutnya dah lama dah sebenarnya nak masukkan streamyx kat rumah ni. Tapi, masa tu tak der connection lagi kat Sungai Buloh ni. Sekarang ni baru nak ade connection.

Tak der ape2 yang menarik berlaku dalam hidup aku dalam minggu ni.

Khamis

Memula ingatkan tanak kuar ah hari ni. Kan Maulidur Rasul. So, aku ingat nak berehat je lah kat rumah kan. Tapi, nak dijadikan cerita, kawan aku from ZZFC (Zarina Zone Fan Club) ajak aku gi tengok wayang cerita CINTA FOTOKOPI. Aku pun on jer lah kan. Lagi pun, bosan maaaa dok rumah.

Pagi tu lepas dah kemas2 rumah semua, baru je nak keluar, abah aku lak ajak aku gi ambik kereta kat abang aku kat Taman Tun. Aku pun ok je. Tapi, cuak jugak aku sebab masa tu dah nak dekat kol 11. aku janji ngan kawan aku pukul 12.

Lepas dah ambik kereta kat Taman Tun, we all pun terus ke Midvalley. Aku dah sms kawan aku siap2 bagitau yang aku akan sampai lewat kat sane. At last, bile sampai sane sorang pun aku tak nampak batang hidung nye. Hampeh sungguh. Yer yer je aku sms syed suruh tunggu aku.

Wayang dalam kol 12.45 tengahari. Sementara dok tunggu tayangan tu, dok borak2 dulu ngan geng2 ZZFC. Ok jugak lah diorang ni semua. Semua sekali termasuk adik2 aku ade lah dalam 20 orang.

Cerita CINTA FOTOKOPI ni nak kata best tu ok lah. Dari 5 bintang aku boleh bagi 4 bintang lah kan. Yang membuat kan cerita tu best sebenarnya sebab ade Farid Kamil. Kalau tak der Farid Kamil memang tak best ah citer tu. Lawak sungguh Farid Kamil tu.

Lepas tengok wayang, memasing mengadu makan. So, we went to Pizza Hut. Hari ni memang sikit punya bagus lah servis Pizza Hut ni. Cepat je order sampai. Selalu nye punya lah lambat order sampai.

Lepas dah makan2 semua terus ke Subang Jaya sebab adik aku nak gi Carrefour. Aku ni kalau bukan sebab adik aku nak gi beli buku kat Carrefour tu aku dah malas nak jejak kaki aku kat Subang tu. Tak hingin aku.

Balik from Subang tu, gi hantar kereta kat Taman Tun and straight away we all balik Sungai Buloh. Dekat nak maghrib abang Azzam sampai kat rumah bawak Dina. Waaaaaaaa, Dina dah makin comel lah pulak. Dah makin cerdik and mengade2. dah tanak kat orang.

One thing yang I notice, Dina ni kalau tengah menangis ke ape ke die boleh bantai senyum kalau orang ambik gambar die. Memang photogenik lah Dina ni.

Bawah ni gambar Dina latest. Comel sangat2 Dina pakai tudung. Ekekekee.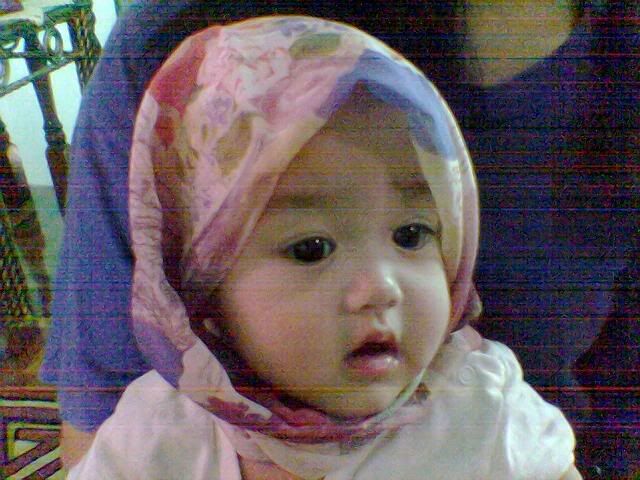 Jumaat

Aktiviti tak banyak sangat sebab aku amat bz hari ni sebab esok dah nak meeting validasi. So, tak leh nak citer lelebih. Aku memang satu hari tak dok depan PC.

Sabtu

Hari bekerja. Tapi, tetap bz gak ngan keje. Hari ni meeting Validasi.